July 4th - Independance Day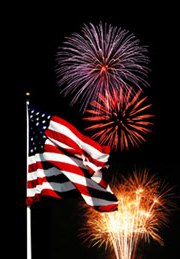 The 4th of July brings strong emotion to Amercians. It is our Independance Day! It is our day to show our patriotism strongly. We do that with our colors, the Red, White and Blue, and with strong echoing salutes of noise. Letting the World know that the United States of America Stand strong.
Fireworks have a long tradition in the US for celebration, and the 4th of July is special! The 4th of July is the busiest time of year for a pyrotechnist. It is the time of year we as pyrotechnicists live for.
4th of July events are some of the largest and most high energy displays we can provide. These are commonly choreographed to patriotic music and other high energy music. These are events that bring a community together. Hollywood Pyrotechnics is here to help!
Look to Hollywood Pyrotechnics to be an innovator for great firework displays. Every display is custom designed to the venue, and to the needs of the festival. Don't just take a standard package, when you can have a customized, perfect fit solution. Fireworks can be selected and fired to meet many different needs and environments. Look to get the best displays possible. Don't settle for less.
Hollywood Pyrotechnics has been performing fabulous firework displays at 4th of July events, fairs and festivals since our very beginings. Discerning customers continue to use Hollywood Pyrotechnics year after year.
Great products, great crews, an optimistic attitude, and a strong safety record contribute to the best possible displays. See what makes the difference. Book a show today!
For more information on Hollywood Pyrotechnics, see our About page.
For contact information on Hollywood Pyrotechnics, see our Contact page.